Choquequirao and Machu picchu Trek 8 Days Tour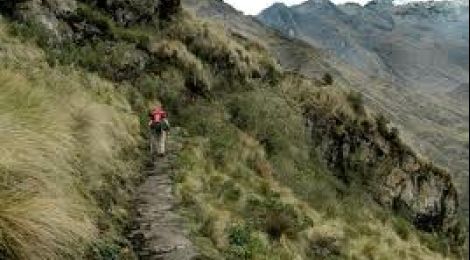 From: 890.00 USD$
Locations Visited

:

Choquequirao trekkking & Machu picchu Citadel

Trip Style

:

Trekking Tours

Length

:

8 Days and 7 Nights

Frequency

:

Every Day

Group

:

Min 8, Max 16

Physical Grading

:

1,2,3,

4

,5
Some of the impressive features of Choquequirao, the other Machu Picchu, are the amazing stone walls protecting it, the greenness of their fabulous land shelves , and all that atmosphere charged with energy probably coming from old ceremonies where they adored the Sun.
Spectacular and distant, lonely and forgotten, Choquequirao ( 3,085 m.a.s.l.) is built at the top of a mountain almost untouched in the province of La Convención, department of Cusco. This fact explains why it became, along 40 years, the last resistance point of the Sun's children who were looking for shelter under its stone walls when Manco Inca, the rebel Inca, was defeated
.Its palaces and temples in two levels, systems of fountains, canals and aqueducts and its fantastic land shelves covered by thick vegetation were presumably built during the Inca Pachacutec government ( XV century) and it is only compared to Machu Picchu, the most visited archaeological site in Peru.
Choquequirao is divided into two zones and its stone buildings are forming small villages. The governors' houses and the main temple are located around its main square. Researchers state that the complex have been an important religious, politic and economic centre as well as a commercial and cultural link among the Coast, the Highlands and the Jungle.
However, the real magnificence of Choquequirao ( in quechua chuqui k ' iraw: golden cradle) is still unveiled. Only thirty percent of the 1,810 hectares of the complex has been "rescued" by the thick vegetation which during years, maybe centuries, covered this real Inca jewel.
Being "rediscovered" and then forgotten is the especial story of Choquequirao, the last Inca shelter. In 1768, Cosme Bueno, an historian, was the first person to announce its existence. The French Eugen de Santiges and Leónce Angrad did the same in XIX century. In 1911, Hiram Bingham, who discovered Machu Picchu the same year, acknowledged the importance of its buildings.
Besides the archaeological and historical value of Choquequirao, the Inca "golden cradle", we can also find a beautiful environment of geographic features and biodiversity adding a new attraction for the visitors who are able to watch the ostentatious condor flight as well as the heavy walk of the spectacle beard.
Arriving at Choquequirao is a demanding adventure which stars in a road trip from Cusco to the town of Cachora (Apurimac) beginning in a zigzag 30 kilometres trail to arrive at the historical building. The adventure to Choquequirao, from Cachora is about 60 kilometres round trip, it lasts four endless walking days in which we can also ride a horse.
During the long hours riding a horse or walking, we can discover huge mountains, frightening cliffs, perfect snow mounts and the strong cannon of the Apurimac river
One of the world deepest. Although we have even more, the flora and the ecological wealth of this place will always delight the visitor. It is worthy to make the effort. We forget being tired as we become witnesses of this spectacular site calledChoquequirao.
DAY 01: Cusco – Cachora – Playa Rosalina .
(Apurimac River) At 5am we will pick up our customers from their hotels, and then we will transfer by our private van to Cachora (4 hours), once we will meet the rest of team (Arrieros and horses). Then we will begin trek go uphill, passing through the high pass of Capuliyoc, where we might see condors and great view of the Apurimac Canyon. Finally we descend through Cactus forest to playa Rosalina on the banks of the Apurimac River, the main tributary of the Amazon River. Camping at playa Rosalina (1550m) .
Meals:  L, D

Accommodation: Camping 4 people tents  for  2 people per tents

Maximum Altitude:3000 masl Capulichayoc

Minimum Altitude:1750 masl chiquisca

Distance Travelled:16 Km

Approximate Walking Time:6 – 7 Hours
DAY 2: Playa  Rosalina – Marampata  – Choquequirao.
(Golden Cradle) After early breakfast strenuous 5 hours of uphill trek through a long and narrow trail, surrounded by beautiful vegetation with several varieties of orchids. Half way up stop for lunch at Maranpata, then continue hiking to more hours to Chokekirao (Golden Cradle), is considered the sister city of Machu Picchu, because of several similarities, it hangs 1500m above the Apurimac Canyon, and Machu Picchu hang above the Urubamba canyon. The view of the canyon is spectacular; it is also possible to see Andean Condors soaring in the mountains. Camping near of Chokekirao (3050m).
Meals: B, L, D

Accommodation:Camping 2 people per tents

Maximum Altitude:2800 masl Marampata

Minimum Altitude:1750 masl chiquisca

Distance Travelled:15 km

Approximate Walking Time:7- 8 Hours
DAY 3: Choquequirao  Pass  – Rio  Blanco  – Maizal .
Breakfast will at 7am and then start our trek passing the Choquequirao ruins, up hill through cloud forest, Mountains and valleys to reach the Choquequirao pass. After 5 hours trekking the trail continue through agricultural terraces called Pinchinoyoc which means (water jumping forward – 2750m). There will observe different species of birds, different varieties of orchids, and local coca plantations. We will have our lunch near the Rio Blanco, we use the brake here to get a refreshing bath in the cold and clear river water. We cross walking through the river, since there are no bridges. After our brake we start the long and steep climb to our camp in Maizal, high over the river close to the sacred Apus of the Incas. From Rio Blanco we climb up to Maizal for about 3 hrs. Camping at 3000m .
Meals: B, L, D

Accommodation:Camping 2 people per tents

Maximum Altitude:3000 masl  Choquequirao

Minimum Altitude: 2750 masl chiquisca

Distance Travelled:12 km

Approximate Walking Time:7- 8 Hours
DAY 4: Maizal – Minas Victoria – Yanama.
Early morning trek around the Corihuarachina glacier, important due to some archaeological remains such as Inca channels. From here we start walking uphill passing by the impressive Inca mines called Minas Victoria and towards the Victoria Pass. Again a long climb, but we walk in amazingly beautiful area – first with cloud forest and then over Andean Puna with the well known Ichu grass. Then we pass through Minas Victoria, a place that during the colony, silver was extracted from a mine. Almost on the top we can apreciate original paved Inca trails. We take our box lunch at the pass in 4200m with view of the mountain Choquetakarpo, while we had lunch we will be able to appreciate the flight of the condors depending on the climate, and finally descend to our campsite at Yamana, a small isolated settlement at the bottom of a long valley surrounded by mountains (3800m) .
Meals: B, L, D

Accommodation:Camping 2 people per tents

Maximum Altitude:3000 masl Maizal – Minas Victoria

Minimum Altitude:3800 masl Yanama

Distance Travelled:14 km

Approximate Walking Time: 8  – 9 Hours
DAY 5: Yanama  – Totoral   Mountain  Range.
After early breakfast trekking uphill to the highest pas in this trek, named Yamana. Again the view will be amazing from here we will be surrounded by mountain range of Saqsarayoc and Pedreyoc. Once again we have the chance to see condors, and this mornings smooth climb bring us through new landscapes – especially the wet grass fields under the snowline that distinguish from everything else seen on the tour. In the pass we might walk in snow, and the descent is a long foggy hike through grassy fields- and bush areas and crossing small poor wood bridges on the way towards the community of Totoral, where we spend the in tents in a indescribable beauty, surrounded by pure nature .
Meals: B, L, D

Accommodation:Camping 2 people per tents

Maximum Altitude:4250 masl Yanama

Minimum Altitude:3850 masl totorayoc

Distance Travelled:14 km

Approximate Walking Time: 8  – 9 Hours
DAY 6: Totoral  – Cloud Forest – La Playa.
Today the trekking will be 7 hours, descending 2000m into Totora River. We will observe the natural wildlife, such as hummingbirds, woodpeckers, many species of orchids and begonias. Then we descend the trail on the left side of the Santa Teresa River where we will see small plantations of bananas, passion fruit, and coffee. On the way will stop at small waterfalls and get a refreshing natural bath. The area also has a big variation of bird the climate and vegetations have changed totally. The Playa is the biggest village on the way, where we can find some small shops to buy snack etc. In this area we can see small plantations of coffee and bananas. Campsite at 2125m .
Meals: B, L, D

Accommodation:Camping 2 people per tents

Maximum Altitude: 3850 masl Totoral

Minimum Altitude:2125 masl La Playa.

Distance Travelled:13 km

Approximate Walking Time:7- 8 Hours
DAY 7: La  Playa – Santa  Teresa  – Hodrolectrica  – Aguas  Calientes.
Alter a good breakfast will took a transport that takes us until the town of Santa Teresa, we cross a river of the Vilcanota. Where we will take a transport to Planta de Hidroeléctrica, place where we will have an excellent view of a different angle of Machu Picchu and the Aobamba canyon, where another Inca trail can be seen, also here we will have our last lunch. After good rest and walk 3 hours to reach Aguas Calientes. Optional visit the hot spring located next to the town. We will spend the night in Hostel.
Meals: B, L, D

Accommodation:Camping 2 people per tents

Maximum Altitude:2800 masl La Playa.

Minimum Altitude:1750 masl Aguas Calientes Pueblo.

Distance Travelled:11 km

Approximate Walking Time:7- 8 Hours
DAY 8: AGUAS CALIENTES – MACHU PICCHU – CUSCO
After an early breakfast from Aguas Calientes we walk or take bus to Machu Picchu, there, we will have a guided tour for all the Archaeological Site, then we will have free time to be on our own in Machu Picchu, maybe to climb the Wayna Picchu or visit the moon temple. At mentioned time you will meet the guide and then come back to Aguas Calientes (3pm) to catch the train back to Cusco arriving at 8pm aprox
Meals: B, L.

Accommodation:Camping 2 people per tents

Maximum Altitude:2100 masl Aguas Calientes.

Minimum Altitude:1750 masl Machu picchu citadel.

Distance Travelled:15 km

Approximate Walking Time:7- 8 Hours
What  is  Included :
Profesional Tour Guide.

Transfer by private van from Cusco to Cachora ( starting point )

Entry to choqueauirao ( one day )

Entry to Machu Picchu (one day)

horses  to carry food and camping equipment

Experienced cook

Cooking equipment

tents for 02 persons

Double thickness foam sleeping mattress

All meals on the trail (7 breakfast – 7 lunches – 7 dinners)

Water supply (boiled) after every dinner or breakfast

One night stay in a hotel at Aguas Calientes

Return train ticket from Aguas Calientes to Cusco ( expedition  train)

First aid kit
What is not Included :
First Breakfast , last lunch and dinner

Mineral water (boiled water provided with food but you can buy it along the way )

Personal Horse  US$ 65

sleeping  bag ( you can hire from us US$15 )

Walking poles (you can hire from us US$15)

45 Lt back pack US$ 10.

Tips for the guide,cook, horseman (arrieros) is a cusctom but not mandatory.

PERU TRAVEL COMPANY  provides a duffle bag to transport your belongings.
What you Need to Take :
Backpack 65Lt, Extra plastic bags, to maintain our equipment dry during the rain season.

Personal sleeping bag -15ºC (can be hired from our office for $5 USD per day)

Raincoat or poncho

Hiking shoes or waterproof boots

Warm clothes, Light clothes, 4 pairs of socks

Flashlight and batteries

Hat or cap to protect you from the sun

Sun block (sun protection cream)

Insect repellent

Toiletries, towel and toilet paper

Chocolates, dried fruit, biscuits or other snacks

Photo Camera with enough batteries

Swimsuit (if you plan on visiting the hot springs at Aguas Calientes after the trek)

original passport  to get in  Machu Picchu

Optional: walking sticks or poles (rubber covers )

Extra money (300 soles )
Choquequirao  Weather.
Dry season (April – November)

Day temperature 20ºC/35ºC

Night temperature 5 ºC/10ºC

Wet season (December – March)

Day temperature 17ºC/22ºC

Night temperature 0 ºC/7ºC
Advice for Hikers.
Is recommendable have yellow fiber vaccination (malaria) because you will be 3 days in the high jungle. We never hear news about problems with malaria in this zone but are better to be prepared.

It is also important to be well acclimatized to the altitude for that try to spend 2 nights in Cusco (3400m) prior to do the trek.
Local  Kids and Adults.
Along the way you will met many people, specially kids walking long distance to arrive at school and study 5 hours and they back home after maybe 30 minutes or 2 – 4 hours depending how far they live from the school. Normally they are son or daughter of poor farmers living on the mountains. We strongly recommend help us to give some present to them like pencils, notebook, dictionaries, toys, clothes (socks, gloves, hat, t-shirt, etc) and something to eat. We don't recommend giving them things like candies, chew gun, soda, camping knife or money. If you really like to make picture of them, especially of adults we strongly advise you to ask first. If you don't speak any word of Spanish language (español) coordinate with your guide to see if is possible to have picture of them. Local people don't permit take picture of them, because they believe you taking their spirit on your camera.
Hire Horse  and  Horseman.
Horses can carry up to 120 Kg = $140 USD for the full duration of the tour ( $35 USD per day). Each horse comes equipped with saddle and assistant who will provide food and care the horse every day.

Riding a horse you will need to carry a daypack with your Camera, bottle of water, snacks, a fleece or something warm and a poncho in case of rain (unlikely in Dry season but as a precaution). Your bag will be waiting for you in your tent at campsites.