Choquequirao Trek 5 Days Tour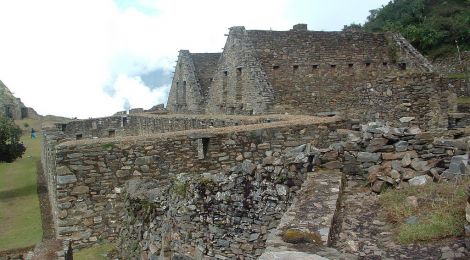 From: 450.00 USD$
Locations Visited

:

Choquequirao citadel

Trip Style

:

Trekking Tours

Length

:

5 Days 4 Nights

Frequency

:

Upon request

Group

:

6. Min , Max 12

Physical Grading

:

1,2,

3,4

,5
Choquequirao, The sister of  Machupicchu means "Cradle of Gold" in Quechua "Inca´s language", although this is probably not its original name. It is another "Lost City of the Incas" rediscovered officially late in 20th century located high on a ridge spur almost 1750mts above the raging glacier-fed Apurimac River and surrounded by towering Salkantay and Humantay snow-capped peaks.
Choquequirao was build during the last days of the Inca empire in the government of the Inca Pachacutec 1490, by Tupac Inca Yapanqui, and probably after the Spanish invasion in 1532. Almost 40 years the Inca's held stand against the spanish conquerors (between 1536 – 1572). The construction of the different levels of temples, palaces, canals and aqueducts is really fantastic. "Choquequirao is the city which demonstrates the inspiring example of an elite Inca ceremonial center. A city dedicated to worship the "Pachamama" the andean mother earth "the Apus" mountain gods and divinities, the river and the elements of nature." Choquequirao finally burned down and left deserted. This happened probably after the execution of the last Inca, Tupac Amaru I in 1572.
By this occasion, the plaster covering the walls, carbonized and disappeared for the most part. At the east side of the complex more then 110 terraces with houses and squares are being revealed. At the west side another 170 terraces are hidden and covered by the forest, in some of these terraces can be seen now an amazing in straight line white color llamas in symetrical order, Until now only 25% is put to overdraft and conserved. With this Choquequirao is the largest Inca-town of the continent and much larger then Macchu Pichu. For the first time in 1710 they mentioned the existence of Choquequirao. The first drawings of the structure of the ruins were made about 1836 by the Frenchmen Léonce Angrand and them by Eugine Sartigues.
DAY 01 : Cachora – Coca  Masana  – Playa  Rosalina .
we will come to pick you up at 5:00 am and we will head for the village san pedro cachora (2850m/9350f) ,  where will have plenty of time for breakfast  and  meet our horsemen and mules that will carry all the camping equipment during the expedition, then we will continue our trek towards the pass of capuliyoc, ( 2850m/9186f). this trek offers a beautiful view and  diverse landscapes that belong to different climates such as Pedroyoc snow-capped, diversity of flora and fauna that embellish our trekking .A deep canyon and of the river Apurímac, meaning "speaking river". Thereupon, we will descend towards the canyon's interior named Chiquisca (1930m/6332f), where we will spend the night.
Meals:  Lunch, Dinner

Accommodation: Camping 4 people tents  for  2 people per tents

Maximum Altitude:3000 masl Capulichayoc

Minimum Altitude:1750 masl playa rosalina

Distance Travelled:16 Km

Approximate Walking Time:6 – 7 Hours
DAY 02 : Playa Rosalina – Choquequirao .
after a good breakfast we will descend to la playa rosalina (1550m/5085f) to cross the apurimac river the lowest point of the trekking , after   we will continue heading for Marampata (2850m/9350f), where we will have a beautiful view of the archeological complex of Choquequirao (3033m/9951f) then completely guided tour of Chokequirao = "Golden Cradle" is considered the Sister City of Machu Picchu. Our camping site is located 25 minutes from the settlement.
Meals: Breakfast, Lunch, Dinner.

Accommodation:Camping 2 people per tents

Maximum Altitude:3200 masl choquequirao

Minimum Altitude:1500 masl playa rosalina

Distance Travelled:15 km

Approximate Walking Time:7- 8 Hours
DAY 03 : Choquequirao all  Day .
That day we dedicate ourselves exclusively to enjoy all the magic of history and splendor of Choquequirao, with a guided visit and time to know whole the site with its 8 sectors, like barns, houses temples and also we will observe the three levels of the excavated ruins of this late Inca-town, like the ruin in progress of excavation and finally unexplored areas that can tell us about this last refuge of the oppressed inca empire terraces. Again, like in the morning this afternoon we have the opportunity to enjoy the majestic flight of condors which with big luck will pass very close to you. In the afternoon we will return to our campsite to have our lunch and then rest and enjoy the quietness of Choquequirao.
DAY 04 : Choquequirao – Santa Rosa  – Chiquisca .
we will wake up very early in the morning where  we can see the sun sunrise over the ruins and after a good breakfast start to walk back down for the same way we came in, until we reach our camp at Chiquica
Meals: Breakfast, Lunch, Dinner.

Accommodation:Camping 2 people per tents

Maximum Altitude:3200 masl Choquequirao

Minimum Altitude:1750 masl chiquisca

Distance Travelled:17 km

Approximate Walking Time :8 -9 Hours
DAY 05: Chiquisca  – Cachora – Cusco
We will  wake up with  birds' songs and beautiful scenery. We will walk back to Cachora. The trek time to Cachora will take 5 to 7 hours depending of your physical condition. In Cachora we will met our private van to take us back to Cusco. arriving  at 7- 8:00 pm .
Meals: Breakfast, Lunch.

Accommodation:Camping 2 people per tents

Maximum Altitude:3000 masl Capulichayoc

Distance Travelled:15 km

Approximate Walking Time:7 – 8 Hour
What  is Included :
Briefing at Hotel or Office.

Professional Bilingual Tour  guide.

Collection from hotel 

Bus from Cusco to Cachora (Trailhead)  – Cusco

Entrance fees to Choquequirao Citadel (one time) 

Cook Horseman , Mules 

4 breakfast, 4 Lunches,4 Dinners

Water supply (boiled) after every dinner or breakfast

doble occupancy tents

4 nights Camping .

Dining tent , Kitchen tent

foam sleeping mattresses note (if you want hire a comfortable air mattresses it also can be hired from us)

First aid kit

Vegetarian Option or  special diet-Free available.
What is not Included:
First Breakfast , last lunch and dinner

Mineral water (boiled water provided with food but you can buy it along the way )

Personal Horse  US$ 65

sleeping  bag ( you can hire from us US$20 )

Walking poles (you can hire from us US$15)

45 Lt back pack US$ 10.

Tips for the guide,cook, horseman (arrieros) is a cusctom but not mandatory.

PERU TRAVEL COMPANY  provides a duffle bag to transport your belongings.
What you need to Take:
Original passport.

Travel Insurance card is essential

Hiking water proof boots ( with ankle protectors )

Trekking poles metal tips are not allowed on the trail

Waterproof jacket or rain poncho

Warm jacket

Sun hat and gloves

T-shirts / shirts

Comfortable hiking zip off trousers

Rain pants

Bathing suit (for hot springs in Aguas Calientes)

Sun protection cream ( factor 35 recommended ) sun is strong

Insect Repellent ( for mosquitos )15 % of deet at least

Water bottle

Toilet paper and wet wipes

Personal medication

Camera and films

Torch with spare batteries (flashlight) we recommend headlights

Emergency money at least 200- 300 ) extra soles.(USD$ 120

Short pants , Plaster and bandages

Walking poles (with rubber tips) they can also be hired from us (they can be used on the Inca Trail if they have rubber tips)
Choquequirao Weather.
Dry season (April – November)
Day temperature 20ºC/35ºC

Night temperature 5 ºC/10ºC

Wet season (December – March)

Day temperature 17ºC/22ºC

Night temperature 0 ºC/7ºC
Advice for Hikers.
Is recommendable have yellow fiber vaccination (malaria) because you will be 3 days in the high jungle. We never hear news about problems with malaria in this zone but are better to be prepared.
It is also important to be well acclimatized to the altitude for that try to spend 2 nights in Cusco (3400m) prior to do the trek.
Local kids and adults .
Along the way you will met many people, specially kids walking long distance to arrive at school and study 5 hours and they back home after maybe 30 minutes or 2 – 4 hours depending how far they live from the school. Normally they are son or daughter of poor farmers living on the mountains. We strongly recommend help us to give some present to them like pencils, notebook, dictionaries, toys, clothes (socks, gloves, hat, t-shirt, etc) and something to eat. We don't recommend giving them things like candies, chew gun, soda, camping knife or money. If you really like to make picture of them, especially of adults we strongly advise you to ask first. If you don't speak any word of Spanish language (español) coordinate with your guide to see if is possible to have picture of them. Local people don't permit take picture of them, because they believe you taking their spirit on your camera.
Hire Horse  and Horseman.
Horses can carry up to 120 Kg = $140 USD for the full duration of the tour ( $35 USD per day). Each horse comes equipped with saddle and assistant who will provide food and care the horse every day.
Riding a horse you will need to carry a daypack with your Camera, bottle of water, snacks, a fleece or something warm and a poncho in case of rain (unlikely in Dry season but as a precaution). Your bag will be waiting for you in your tent at campsites.