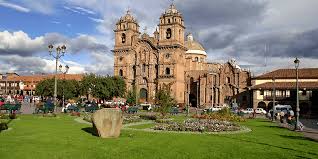 Locations Visited

:

Ciudad de Cusco

Trip Style

:

Cultural

Length

:

Half day

Frequency

:

Every Day

Group

:

Min 8, Max 20

Physical Grading

:

1

,2,3,4,5
To begin the tour, we'll pick you up at your hotel between 1:00 and 1:25pm. At the end of the tour, we'll drop you off at your hotel or in Plaza San Fransisco, one of the central plazas in Cusco and a four minute walk to the main plaza, Plaza de Armas.
THE CATHEDRAL:
The Cathedral, also known as The Cathedral Basilica of the Assumption of the Virgin, is the principle temple in the city of Cusco. The tour starts by entering the cathedral through the Church of the Sacred Family, and works its way through the entire cathedral, including the adjacent Church of Triumph.
QORIKANCHA:
The tour continues with a visit to the most important religious site of the Incas, the Qorikancha. The Temple of the Sun was the center of the entire complex Incan religion, making Cusco the Holy City of the Incas. Nowadays it is still possible to observe the advanced engineering and architectural techniques developed and utilized by the Incas.
SACSAYHUAMAN:
This Incan archeological site is known as the "Ceremonial Temple of Sacsayhuaman." Here you can observe the huge megalithic walls that are among the greatest architectural works from the peak of the Incan empire. Located about 2 kilometers outside the city, this site also offers an incomparable panoramic view of the city and surrounding area.
QENQO:
This site of Incan worship, dedicated to magical-religious rituals, is of particular interest due to its semicircular amphitheater and subterranean passageways.
TAMBOMACHAY.
This temple was built for the cult to water, as well as a retreat for the Incan King to rest. It contain a series of aqueducts, canals, and waterfalls that pass over the rocks. Even today, the original source of the water remains unknown.
PUCAPUCARA:
This archeological site is a military fortress with large walls, terraces, and steps. It formed an important part of the defense of Cusco.
lnclusions :
Guía en español y ingles

Servicio de transporte
Exclusions :
Alimentación almuerzos y cenas.

Llevar pasaporte original

Usar zapatillas o zapatos ligeros o tenis.

Tomar mucho líquido en sus excursiones.

Llevar impermeable (poncho largo) en epoca de lluvia

Camisas de manga larga.

Pantalones largos.

Repelente de insectos.

Protector solar, sombrero de ala ancha para los días de sol.

Lentes para sol, bolsas de plástico.

Medicina y/o artículos de uso personal (líquido para lentes de contacto).

Una mochila o maletín liviano.

Cámara fotográfica o filmadora y películas.

Tener a la mano cheques y monedas en pequeñas denominaciones soles o dólares.

Ropa de baño para los baños termales (opcional).