Tour Inca Jungle 4 dias y 3 noches
From: 170.00 USD$
localizacion  

:

Aguas Calientes 

Estilo de Viaje 

:

caminata 

Duracion 

:

4 dias y 3 noches 

Frecuencia 

:

Todos los dias 

Grupo 

:

Min 8 , Max 15

Grado de Dificultad 

:

1,2,

3

,4,5
DIA 01: CUSCO – ABRA MALAGA – SANTA MARIA.
Buscamos você no hotel entre 07:00am a 08:00am da manhã para ir até a cidade de Abra Málaga, passando pelo Vale Sagrado dos Incas e subindo ao ponto de partida Abra Málaga até a altitude de 4350 metros acima do nível do mar, o guia lhe dará todo o equipamento nescess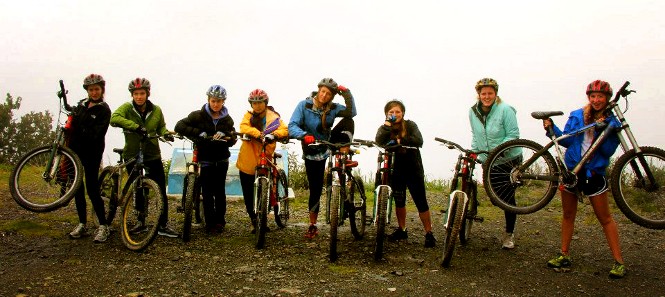 ario de proteção (luvas, cotovelos, joelheiras, capacetes e armadura de cross) ,para fazer a descida em bicicleta, então começamos a aventura de bicicleta em uma estrada pavimentada, tranquila mas desafiadora após 2 a 3 horas de ciclismo, chegamos a uma pequena área arqueológica chamada Huaman Marca ,la você tem um bom almoço e depois embarque na van (VAN) em direção a cidade de Santa María, passe a noite em uma casa familiar desfrutando do pôr-do-sol nos Andes. * Rafting opcional em Santa María US $ 25,00 Depois de ter desfrutado a aventura de bicicleta, o guia do rafting estará esperando por você pronto para começar uma nova aventura no rio urubamba (Vilkanota) em Santa Maria por 2 horas Aproximação com nivel 3 e 4 estilo rápido ,depois de terminar esta emocionante aventura , um ônibus estará esperando por você para retornar a Santa Maria, onde iremos jantar e passar a nossa primeira noite em uma casa família local. As corredeiras nesta parte do rio são consideradas algumas das melhores em Cusco e o clima quente faz deste passeio uma experiência inesquecível.
• Alimentos: almoço, jantar.
• Alojamento: Hostal Casa Familiar.
• Altitude máxima: 4.350 m / 14, 224 ft
• Altitude mínima: 1.430 m / 4.676 ft
• Distância Percorrida: 48 Km
• Tempo de caminhada aproximado: 2-3 horas. Experiência inesquecível. NOTA Depois do rafting no rio Urubamba(vilkanota), embarcamos no táxi até Santa Teresa onde passaremos a primeira noite (casa familiar).
DIA 02: SANTA TERESA – HIDROLECTRICA – AGUAS CALIENTES POVO.
Hoje você tem duas opções, você pode ir de Santa Teresa a Aguas Calientes (11 km aproximadamente) Ou fazer o zip line (tirolesa) na parte da manhã, depois vai em mini van para a estação hidroelétrica logo depois parada almoço. Você caminha os últimos 7 quilômetros. Qual opção você escolheu ? . O grupo se reunirá novamente na estação hidroelétrica para o almoço e depois caminhada de2a 3 horas pala linha do trem até a cidade de Aguas Calientes. Onde passamos a noite em um albergue no proprio albergue inclui a janta. Depois você terá informações sobre o passeio guiado em Machu Picchu. Opção para visitar os banhos termais de Aguas Calientes (entrada de 20 soles)
* Opcional zip line (tirolesa) em Santa Teresa US $ 25 • Comida: café da manhã, almoço, jantar.
• Alojamento: Hostel
• Altitude máxima: 2.100 m / 6, 867 pés
• Altitude mínima: 1.800 m / 5886 ft
• Distância percorrida: 16 km aproximados
• Tempo de caminhada aproximado: 6 -7 horas / Subida 200.
DIA 03: MACHUPICCHU (CIDADE INCA DE MACHU PICCHU)
04:00AM, hora de acordar tem que esta pronto para caminhada até à cidadela inca de Machu Picchu, a caminhada começa ao longo da estrada de ônibus depois de 20 minutos iniciar o trecho da estrada inca até o sítio arqueológico de Machupicchu, para poder apreciar o impressionante nascer do sol, depois se registrar na entrada principal de Machu Picchu que está aberto às 06:00 da manhã. iniciar a visita guiada duração aproximadamente 2h00, onde o guia explicará sobre a história dos Incas, então você terá tempo livre para visitar e caminhar por conta própria, tendo em conta o calendário de trem de volta, você tem a tempo suficiente para subir a montanha de Huayna Picchu ou Machu Picchu, à tarde, você pode pegar um ônibus ou caminhar de volta para a cidade de Aguas Calientes para embarcar no trem turístico de volta para a cidade de Ollantaytambo, em seguida, de ônibus para Cusco
• Comida: café da manhã.
• Altitude máxima: 2.450 m / 8, 011 pés
• Altitude mínima: 2.100 m / 6.867 ft
• Distância Percorrida: 9 Km aproximadamente
• Tempo aproximado de caminhada: 1:45 hora / subida 350 m.
O QUE INCLUI:
• Guia Profissional English / Spanish.
• Equipamento de acampamento.
• 1 Noite no Lodge.
• alimentação completa.
• Maleta de primeiros socorros.
• Transporte privado de ônibus e barco.
• OPCIONAL: (Verificar preços em nossos escritórios)
Passeio de bicicleta na montanha .
Passeio de bote (rafting).
O Que você tem que levar:
• Binóculos
• Câmera fotográfica.
• Saco de dormir.
• Polos com mangas compridas e repelentes de mosquitos, impermeável longo, capa de chuva.
• Protetor solar.
• Lanterna com baterias sobressalentes.
• Mochila pequena para caminhadas.
• Sandálias.
• Sapatos de caminhada.
• Chapéu
• Óculos de sol.
• Medicamentos pessoais.
• Uma garrafa de água para o primeiro dia de viagem de ônibus.
• Bolsas plásticas.
• Traje de banho.
What Is The Difference Between Huayna Picchu/Machu Picchu Mountain?
Huayna Picchu is the mountain located at the northwest end of the ruins and Machu Picchu mountain is located at the southwest end. Huayna Picchu is steeper, but more popular and has some interesting archeological ruins at the top. Machu Picchu mountain is a longer trek, less steep and less crowded and offers great views over Machu Picchu. Check this amazing link out for views from the Huayna Picchu mountain and Machu Picchu mountain (it will open with the Huayna Picchu mountain, click on the right side of the picture and the other views will open).
How Long Is The Walk From Aguas Calientes To Machu Picchu?
The hike up to Machu Picchu takes around an hour up and 45 minutes to go down.
How Hard Is The Hike From Aguas Calientes To Machu Picchu?
The trail is comprised of stairs and is fairly steep, but taken slowly should not be a problem for most people.
How Long Is The Hike From Machu Picchu Up To Huayna Picchu?
The trail takes about 45 minutes to 1 hour to climb up and about 30 minutes to get down.
How Hard Is The Hike To Huayna Picchu?
The trail is very steep and can be crowded. People who have trouble with vertigo may not enjoy this trek.
What Is The Best Time To Hike Huayna Picchu?
We recommend the 10:00 – 11:00am entry time as it is more flexible with tours and allows travelers a more relaxed experience at the ruins.
When Does Machu Picchu Open/Close?
The ruins open at 6:00am and closes at 5:00pm.
How Long Do Most People Spend On machu picchu?
The majority of people will spend about 4 to 6 hrs in Machu Picchu.
Why booking with peru travel company ?
we are direct operators that means we do not pass onto another tour company , we own our own transports, bikes and equipment meaning the tour is well organized and the service is better. Better biking gear is also provided including full-face helmet, gloves, elbow and knee protection, and jackets.
Pickup is early, at 6:30am, allowing for extra time for a short break in Ollantaytambo, safer and quieter roads for biking and an early arrival to Santa Maria for lunch and rafting.
White water rafting in Santa Maria is exclusive with our tour operator meaning it is better controled for safety, maximum 6 passengers per boat and always an accompanying safety boat or kayak.