From: 30.00 USD$ Locations Visited : Rainbow mountain & Ausangate Mountain  Trip Style : Trekking Tours Length : One Day Frequency : every day  gruop : Min 6 , Max 15 Physical Grading : 1,2,3,4,5 Description: The majestic mountain of Ausangate is considered God's...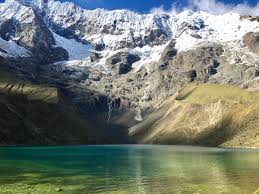 Humantay lake 1 day tour
Nuestra aventura rumbo hacia la Laguna Humantay comienza con el recojo de su hotel a las 5:00 a.m., para dirigirnos a rumbo 4 horas en transporte privado a Soray pampa (3850 m.s.n.m.). Soray pampa es el primer campamento cuando realizamos el tour de Salkantay. (más información haga clic aquí). Aquí disfrutamos de un desayuno exquisito antes de subir a la laguna. Continuando con nuestra aventura rumbo hacia la Laguna Humantay (4200 m.s.n.m.). Comenzar a ascender por una pampa con hermosas vistas, si el cielo se encuentra despejado tendremos la oportunidad de apreciar desde lejos los imponentes Apus de Salkantay y Humantay (Los Apus son divinidades Incas). Nuestro ascenso de Soraypampa hasta la Laguna Humantay tiene una duración aproximada de 1 hora y media, pero también es posible alquilar un caballo si desean. La caminata está considerada entre un nivel fácil y moderado, pero todo el esfuerzo será recompensado con una vista mágica de la laguna. ¡Ahí tienes disponible tiempo suficiente para tomar fotos, realizar una breve entrega de los Apus, los más intrínsecos si quieres puedes nadar en la laguna cuando está soleando! Inmediatamente después de comenzar su descenso desde la Laguna Humantay hacia Soraypampa, que tiene una duración de aproximadamente 1 hora y media, una caminata más fácil que la subida. Cuando regresamos a Soraypampa nos espera un almuerzo rico y luego tomaremos nuestro transporte de retorno a la ciudad imperial del Cusco a las 6 de la tarde.
Lo que incluye

Desayuno

Almuerzo

Transporte

Guia

Lo que no incluye

Caballos (+ USD30.00)

Ingreso al parque de salkantay & humantay ( 10 soles )

Recomendaciones para llevar

Mochila pequeña

Pasaporte original.

Ropa de abrigo.

Ropa de lluvia

Gafas de sol

Pantalones de trekking

Botas de montaña

Cámara con pilas de repuesto

Botella de agua