Lares Valley Trek 4 Days Tour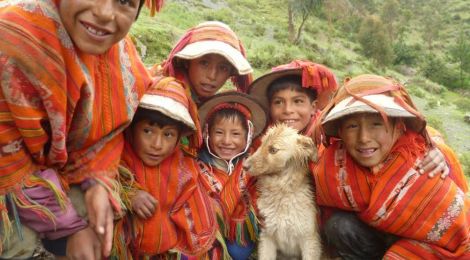 From: 450.00 USD$
Locations Visited

:

Lares Valley Trek & Machu picchu Citadel

Trip Style

:

Alternative inca treks

Length

:

4 Days / 3 Nights

Frequency

:

Every day

Group

:

Min 8 , Max 16

Physical Grading

:

1,2,

3,4

,5
LARES COMMUNITY ( wearvers,alpacas and llamas )
For trekkers wanting to get off the well-beaten touristy path and escape to a part of Peru that has changed little over the last 500 years, the Lares trek is a must. This remote and rarely visited region offers the trekker an insight into the real lives of Andean farmers, dressed in their traditional brightly-colored ponchos. You will have the opportunity to see thatched stone houses surrounded by herds of llamas and alpacas. Inside the houses' kitchens, you'll see guinea pigs running loose. The trek itself is about as difficult as the Inca Trail. There are, however, two passes over 13,000 feet (4,000 meters), so it is essential that you are well acclimatized to the altitude before beginning the trek. If you are arriving from sea level, plan on spending at least 3 days in Cusco and the surrounding area before undertaking the trek.
DAY 01: CUSCO – LARES HOT SPRINGS- HUACAHUASI
We leave Cusco early in the morning and travel by bus through the Sacred Valley of the Incas to the town of Calca. From Calca we ascend up for about 4 ½ hours to the village of Lares. Once in Lares we will enjoy a relaxing dip in the hot springs and unwind after a long drive. Before the start of our hike of approximately 31/2 hours we will enjoy a delicious lunch. Then we ascend to the highland village of Huacahuasi (3,600m/11,800ft), where we camp for the night. This is an authentic Andean Community where you observe their colorful distinct and colorful weavings. Meals .
Meals: Lunch, Dinner.

Accommodation: Hostel.

Maximum Altitude:3,700 m/12,099 ft

Minimum Altitude:3,400 m/11,118 ft

Distance Travelled: 8 km approx

Approximate Walking Time:4-5 hours / Ascent up: 300 m
DAY 02: HUACAHUASI – PATACANCHA
Today we climb steadily, traversing through a treeless landscape of beautiful plants and flowers with roaming herds of llamas and alpacas. After about 21/2 hours we will reach the Ipsayccasa Pass (4,500m/ 14,760ft) and take in the breathtaking views of Mount Veronica (5,750m/18,864ft) and the surrounding snow-capped peaks. Then we will descend to the Ipsaycocha Lake and enjoy the Andean Geese, Puna Ibis and other water birds. We will relax and eat a delicious lunch. Afterwards, we continue to the village of Patacancha (3,700m/ 12,139ft), a well-known textile community and where the people still preserve their ancient Quechua customs. This will be our campsite.Meals .
Meals: Breakfast, Lunch, Dinner.

Accommodation: Hostel.

Maximum Altitude:4200 m/13,734 ft

Minimum Altitude:3,600 m/11,772 ft

Distance Travelled:15 km approx

Approximate Walking Time:4-5 hours / Ascent up: 600 m
DAY 03: PATACANCHA – PUMAMARKA – OLLANTAYTAMBO – AGUAS CALIENTES
Today, our trail will lead downhill to an outlook facing a wide valley. We will take in the scenery and your guide will point out different plants and animals along the way, including llamas and alpacas. Situated in a fertile river valley and sheltered by huge mountains, this ancient Inca village is considered one of the most important living museums in the world. It is a perfect place to appreciate the vast archeological remains and a wide variety of flowers and bird species. We will then take the train from Ollantaytambo to Aguas Calientes in the evening and spend the night there in a comfortable hostel.
Meals .
Meals:Breakfast,  Lunch, Dinner.

Accommodation: Hostel.

Maximum Altitude: 3,600 m/11,772 ft

Minimum Altitude: 2200 m / 7,194 ft

Distance Travelled:19 km approx

Approximate Walking Time:6-7 hours / Ascent up: 950 m
DAY 04 :  AGUAS CALIENTES – MACHUPICCHU -CUSCO
Early after a good breakfast re-live the history and the mysterious world of the Incas, we take the first bus up at approx 05.30am and arrive at the ruins at 06.15am. This time is still not so crowded so we take advantage of the tranquility of this sacred site ; Guided Tour of Machupicchu. This enigmatic city is explored for Approx 2 hrs and their mysteries and archaeological information will be explained by your expert guide, ( you generally have approx 6 hrs extra free time but depends on train timetables in high season.) Option to climb to the Huayna Picchu mountain ( Please check previously with your guide. Sometimes guided tour is after Huaynapicchu.)
Machu Picchu is a magical, mysterious place that for nearly a century has intrigued archaeologists and visitors alike. Perched atop a steep, emerald green peak 8,000 feet high in the Andes in southern Peru, it is reachable only by a long road that zigzags up the slope from the roaring Urubamba river, or by hiking four days along the challenging Inca Trail. One can imagine the excitement when intrepid Yale professor-explorer Hiram Bingham, led there by local peasants in 1911, first glimpsed the jungle-invaded citadel abandoned by the Incas four centuries earlier.Bingham eagerly surveyed the site over the next five years, clearing away brush and identifying palaces, temples, and a celestial observatory from what is believed to have been a summer palace or ceremonial center for the first Incan emperor, Pachakuteq. Most of its gold and other treasures had been looted around the time of the Spanish conquest, but he unearthed thousands of artifacts and carted them off to New Haven to study. The Incas built their mysterious city here to be closer to the gods. It was placed so high in the clouds, that the conquering Spaniards never found or destroyed it. Visitors to Machu Picchu see well-preserved ruins hidden among the majestic Andes: palaces, baths, temples, tombs, sundials and farming terraces, along with llamas that roam among hundreds of gray granite houses.
Meals: Breackfast

Accommodation: 2 person per room.

Maximum Altitude: 2400m/7872ft

Minimum Altitude: 2100m/6888ft

Distance Travelled: 9 km approx

Approximate Walking Time: 3 – 4 Hours
What is Included:
Lares Valley Trek Briefing at Hotel or Office * Let us know where are you going to stay in cusco.

Professional Bilingual guide.

Collection from hotel ( we will come to pick you up between 4:00 am to 5:00am )

Bus from Cusco to lares valle trek

3 breakfast, 3 Lunches,3 Dinners

2 nights Camping and 1  Hostel Accommodation.

foam sleeping mattresses note (if you want hire a comfortable air mattresses it also can be hired from us)

cook horseman mules (carry up to 5 kg per person  mules or porters (they just carry cooking stuff and camping equipment )

doble occupancy tents

Entrance fee to Machu Picchu • International Student Identity card (ISIC) if applicable. green card.

First Aid kit

Vegetarian Option or  special diet-Free available.
TICKETS FOR HUAYNA  PICCHU
Ticket for Huaynapicchu.- ( Limited spaces… Reserve and pay in advance )The INC park office incharged of selling these tickets just informed that is not longer possible to purchase online. We can purchase this for you $55.00 US$30.00 with ISIC student card.  if you request in writing and pay in advance. (1st turn at 7:00 am with 200 spaces  2nd turn at 10-11am with 200 spaces.)
WHAT IS NOT INCLUDED:
Breakfast on the first morning lunch on the last day after machu picchu.

PERU TRAVEL COMPANY highly recommend to get an insurance of trip cancellation / interruption insurance to protect your trave

Down sleeping bag – 8ºC US$ 20 for all lares trek

Personal  Horse US$  90.00

Trekking poles US$ 20.00 a pair

Hot Springs in Aguas Calientes (10 soles)

Bus down tickets from  Aguas calientes – Machupicchu – Aguas Calientes town US$ 12.00 one way

Tips for guides , Cook, Porters It`s a tradition but not mandatory

Energy snacks will be very useful as chocolate bars, dried fruits

Ticket for Huayna Picchu mountain US$ 15  t.00 (Book and pay in advance with us.)

Hotel in Cusco before or after Lares Valley Trek.
WHAT YOU NEED TO TAKE :
Original passport and copies (and Student card (ISIC) student card if applicable) green card if you are student )

Travel Insurance card is essential

Hiking water proof boots ( with ankle protectors )

Trekking poles metal tips are not allowed on the trail

Waterproof jacket or rain poncho

Warm jacket

Sun hat and gloves

T-shirts / shirts

Comfortable hiking zip off trousers

Rain pants

Bathing suit (for hot springs in Aguas Calientes)

Sun protection cream ( factor 35 recommended ) sun is strong

Insect Repellent ( for mosquitos )15 % of deet at least

Water bottle

Toilet paper and wet wipes

Personal medication

Camera and films

Torch with spare batteries (flashlight) we recommend headlights

Emergency money at least 200- 300 ) extra soles.(USD$ 120)

Short pants , Plaster and bandages

Walking poles (with rubber tips) they can also be hired from us (they can be used on the Inca Trail if they have rubber tips)

NOTE:  walking poles are not allowed into machu picchu cittadel.