Machu Picchu Tours 1 Day with Peru Rail Train Company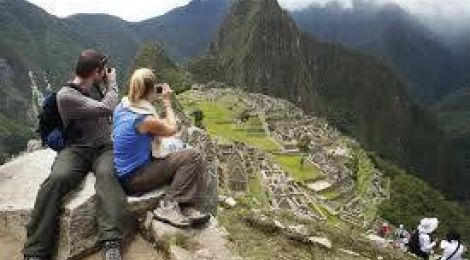 From: 275.00 USD$
Locations Visited
:
Machu picchu Inca Citadel
Trip Style
:
cultural tours
Length
:
one day
Frequency
:
Every day
Group
:
Min 8, Max 16
Physical Grading
:
1,

2

,3,4,5
MACHUPICCHU .- one of the most important places to visit in south america , peru is machu picchu which was discovered 1911 by professor hiram bingham machupicchu in quechua language means 'old peak" is a pre columbian 15th century inca site located 2430 metres (7,970 ft) above sea level machupicchu is located in the Cusco region of peru which is 80 kimetres (50 ml) northwest of cusco .
NOTE :to start this tour to machu picchu you must be at least one day before in Cusco city at 1200 kms Southeast of Lima (Peru).
You have diferent options to go  and Prices with
" PERU RAIL"
Train Company
 Expedition  Train Service ( new ) / Vistadome Train Service / Hiram Binghan Train Service
  Going with Expedition Service Train ( click to see details ) Price – US$ 270.00 
designed exclusively for travelers with adventurous spirit who in turn seek comfort and safety. The service Expedition seats have been re-Incan tapestries with motifs, giving them a local and indigenous flair and the comfort of having a broad space for your backpacks and you need to enjoy Machu Picchu. This service will serve drinks and snacks at an additional cost, we have room to store backpacks
TRAIN   EXPEDITION DEPARTURES :
Train Expedition  81 –  Departure from Ollantaytambo   06 :10  am – Arrival Aguas Calientes  07:40  am

Train Expedition  83 –  Departure from Aguas Calientes 18:20 pm – Arrival Ollantaytambo   20: 05 pm
 Going with Vistadome Service Train  (

click to see details

) Price – US$ 315
The quickest and easiest way to visit Machu Picchu. On the trip, you can enjoy delicious snacks hot and cold drinks. Recently refurbished cars, which are equipped with panoramic windows completely surrounded by glass, passengers feel they are part of the stunning scenery of the trip that you can enjoy a spectacular view with unparalleled scenic views and a host of wonderful photo opportunities.
TRAIN VISTADOME  DEPARTURES :
Train Vistadome  301 –  Departure from Poroy   07:05 am – Arrival Aguas Calientes  08:27  am

Train Vistadome  304 –  Departure from Aguas Calientes 15:48 pm – Arrival Poroy   17:29  pm
Going with HIRAM BINGHAN Train Service (

click to see details

)  Price – US$ 820
the train leaves from cusco morning , starting a espectacular journey through changing landscapes while passengers enjoy a delicious brunch after climbing a sleep slope on the outskirts of cusco the train descendsinto the sacred valley , passing lush fields and colorfull villages located at the foot of the andes .it has 02 passanger cars , a bar car and a kitchen car .the car design is exquisite and luxurious , extra wide tables of almost 3 meters long and comfortable seating 30 cn wider then others in the same way these cars are among the most spacious and comfortable in the world .
TRAIN   HIRAM BINGHAN DEPARTURES :
Train HIRAM BINGHAN 11 –  Departure from Poroy   09:25 am – Arrival Aguas Calientes  12:24 pm

Train HIRAM BINGHAN 1 –  Departure from Aguas Calientes 17:50 pm – Arrival Poroy  21:16 pm
DAY 01 : we will come to pick you up to your hotel and then we will drive to ollantaytambo where the train station is and then .we will board the train to aguas calientes as soon as we arrive to aguas calientes we will take a bus up to machupicchu where the guide will wait for you afterwards you will have guided tour which takes 2 hours and then you will have a free time to explore by yourself in machupicchu and for climbing huaynapicchu mountain and then you have to come back down to aguas calientes town to take train back to ollantaytambo and bus back to cusco ..
WHAT IS INCLUDED:
Train tickets round trip from ( ollantaytambo – aguas calientes – ollantaytambo ) expeditons service ( trains departure times are subject to availability)

Entrance fee to machupicchu

Bus up and down from ( aguas calientes – machupicchu- aguas calientes )

Professional english speaking guide

Transfer from your hotel to the train station and return

Taxes
WHAT IS NOT INCLUDED:
Food

Drinks and water

Phone calls

Snack ,water ,tips

Transfer airport – hotel -airport ( we can help to organize )
WHAT YOU NEED TO TAKE :
Wear light or tennis shoes.

Drink plenty of fluids in your excursions.

Raincoat (plastic poncho) rainy season

Long sleeve shirts

Trousers

Insect Repellent

Sunscreen, brimmed hat for sunny days.

Binoculars

Sunglasses, plastic bags

Medicine and / or personal items (liquid for contact lenses)

A light backpack per person

Camera or camcorder and films.

Have on hand checks in small denominations and coins dollars, euros or soles