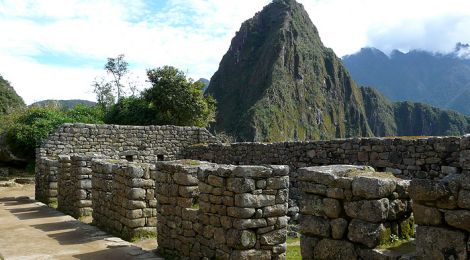 From: 1250.00 USD$
| | | |
| --- | --- | --- |
| Locations Visited | : | Lima , Cusco, Sacred Valley ,Machu picchu, Puno , Lake Titicaca . |
| Trip Style | : | cultural tours |
| Length | : | 6 Days / 5 Nights |
| Frequency | : | Every Day |
| Group | : | Min 2, Max 12 |
| Physical Grading | : | |
Short Discription
Visit : Lima, Cusco,Sacred valley,  Machu Picchu, Puno, Lake Titicaca
Day 01:
Flight from Lima to Cusco (1 hour).

Important: This promotion does not apply on the date of the Festival of Cusco from 21 to 24 JuneImportant: Flight Lima – Cusco is scheduled for 09:00 hrs. The value of package may vary if you want to schedule that flight after this time.

Welcome and transfer to Cusco airport to hotel.

City Tour around Cusco and outskirts. (Afternoon from 13:30 hrs – 18:30 hrs.).

Show typical dances and music (from 19:00 hrs to 20:00 hrs).

Overnight at Hotel
Day 02:
Breakfast at the hotel.

Tour to Machu Picchu (all day from 06:00 hrs – 20:00 hrs).

Overnight at Hotel.
DAY 03:
Breakfast at the hotel.

Tour the Sacred Valley of the Incas (all day from 08:00 hrs – 19:00 hrs).

Overnight at Hotel in Puno .
Day 04:
Breakfast at the hotel.

Transfer from hotel to the Cusco to Puno.

Guided Tour Cusco-Puno (08:00 hrs – 18:00 hrs).

Overnight at Hotel Eco Inn Puno.

It could also make the trip by train
Day 05:
Breakfast at the hotel.

Tour to Lake Titicaca, Uros Island, Taquile.

Overnight at Hotel in Puno .
Day 06:
Breakfast at the hotel.

Tour to Chullpas Sillustani.

Transfer to the airport in Juliaca (one hour).

Flight from Juliaca to Lima (1 hour).
First day: City tour of Cusco and Show Dance and Music
Plaza de armas CuscoMust be at the Lima airport at least two hours before the time of the flight to Cuzco, should approach the counter of the airline that will tell you, there will be checked and handed them their tickets by presenting their papers and take a flight an hour to the city of Cusco "The Archaeological Capital of America" ​​Our staff will welcome and moved from Cusco airport to hotel, where we take a drink coca tea. After lunch at 1:30 pm will begin the guided tour which includes visiting the center of the ancient city of Cusco, Plaza de Armas, the Cathedral, the Monastery of Santo Domingo, Koricancha Temple and the nearby ruins of Kenko, Puka Pucara, Tambomachay and the fortress of Sacsayhuaman, built with huge rocks that so far remains an enigma mobilization and use of these, there being no quarries in the area. At 7:00 pm. if we can see a show of music and dance in the center of Cusco Qosqo Native Art. (Photo: Plaza de Armas in Cusco at night).
Day Two: Tour to Machu Picchu "The Lost City of the Incas"
Machu Picchu CuscoAfter a good breakfast pick you up from hotel and transfer to Cusco Train station to start the trip to Machu Picchu, the Lost City of the Incas. We will have a 4-hour to reach the tourist town of Aguas Calientes, from there take a half hour bus and reach the citadel of Machu Picchu. Then our guide will visit the Inca city of 2 to 3 hours. Then we have time to go to Aguas Calientes for lunch and the afternoon take the train back to Cusco. Arriving where our staff is waiting to lead you to hotel for overnight. (Photo: Machu Picchu).
Day Three: Tour the Sacred Valley of the Incas
Valle sagrado de los IncasThis day tour the Sacred Valley tour that started at 08:30 hrs, collected from the hotel to go to Pisac, which is a typical market, with picturesque terraced fields on the mountain.Visit the archaeological site of Pisac. It is also famous for its fairs where you can buy beautiful handicrafts. Then we head to Urubamba where we have included a buffet lunch. Then we go to the fortress of Ollantaytambo, where descendants of the Incas living in the home of the Incas. Finally we went to Chinchero to see its market and the archaeological group with typical Spanish overlaps the Inca constructions. The tour will end up averaging 19:00 hrs in the main square of Cusco. Overnight at hotel in Cusco. (Photo: Sacred Valley of the Incas in Cusco).
Fourth day: Tourist trip from Cusco to Puno visiting "Raqchi"
Ruinas de RaqchiTaking a good breakfast, the hotel will pick you up and take you to the bus station of the company to take us on a journey that lasts 8 hours we will have 4 excursions and guided tours of the sights of the southern corridor of the altiplano visiting Temple Andahuaylillas or Sistine Chapel of America, the Inca temple of Raqchi, at noon in the Sichuan city on the tour have included a lunch buffet, hence continue the tour coming to the passage of the 4335 m stripe and Inca museum Pukara Aymara. Each tour lasts 20 to 40 minutes, where the passenger can ask questions, take photos and walk a little, making our trip very pleasant.Arriving in Puno our staff will be waiting and will take us to the Hotel. (Photo: Raqchi).
Fifth day: Tour of Lake Titicaca, Urus Islands and Taquile
Isla de los Uros en el Lago TiticacaAfter taking breakfast at the hotel will be transferred to the port of Puno (Lake Titicaca), which embarked on the boat and then visit the floating islands of Uros for a space of 45 minutes, appreciate the customs of this island and its crafts.Then we move also in boat to visit the Island Taquile of great landscape value, ethnic, cultural and archaeological also then return by boat to the port of Puno, there will be picked up and carried them to the hotel or if you wish we can leave in the middle Puno, and finally spend the night in the hotel.(Photo: Uros Islands on Lake Titicaca in Puno).
Sixth day: Chullpas Sillustani and air ticket from Juliaca to Lima
Chullpas de SillustaniAfter taking breakfast at the hotel, take some time off to visit the center of the city of Puno, at a time that will tell you pick you up from hotel and transfer to Chullpas Sillustani pre-Inca burial towers, the most high is about 12 m. then we will go to Juliaca airport which is about an hour from Puno, there are check at the airport counter, they hand over their tickets and then take the flight to Lima.
What is Included:
Airplane tickets Lima – Cusco and Juliaca to Lima.
Transfer from Cusco airport to hotel.
Tour around Cusco and outskirts (in the afternoon from 13:30 hrs – 18:00 hrs).
Show typical dances and music (from 19:00 hrs to 20:00 hrs).
5 Nights at selected hotel.
5 breakfasts.
2 lunches one in the Sacred Valley and on the journey from Cusco to Puno.
Tour to Machu Picchu (all day from 06:00 hrs – 20:00 hrs).
Tour the Sacred Valley of the Incas (all day from 08:00 hrs – 19:00 hrs).
Transfer from hotel to the Cusco to Puno.
Guided Tour Cusco-Puno ( 08:00 hrs – 18:00 hrs).
Tour to Lake Titicaca, Uros Island, Taquile.
Transfer from hotel in Puno to the airport in Juliaca (one hour).
What is not Included:
International Airfares.( Please Give us Details of you Flight Tickets to pick you up from the airport) Flight Number & Company Name.)
All airport departure tax – Lima International Departure tax is approximately US$35 and Lima Domestic Departure tax is approximately US$8
Additional nights during the trip due to flight cancellations Meal Budget : Allow approx. US$10  and US$15 for every meal not included.
hiking poles US$ 4 per day (02 poles/black diamond or Leki) can be easily rented from us. Let us know.
Tips for the guides, porters and other staff.
Lunch and dinner whilst staying at hotels.
Alcoholic drinks, tickets for the hot springs at Aguas Calientes
Travel Insurance and things of a personal nature – laundry and telephone calls, personal taxis, souvenirs etc.
We will gladly arrange additional accommodation for you before or after your trip: In Lima/Cuzco/Machu Picchu.
Travel and health insurance.(bring copies with you please):Quechuas Expeditions highly recommend to get an insurance of trip cancellation/interruption insurance to protect your   travel investment. Included with your pre-departure package, bring your travel insurance to cover trip cancellation, interruption, baggage loss and delay, emergency medical evacuation insurance and emergency medical expense insurance. Quechuas Expeditions will assist in obtaining all necessary documents for you to be refunded by your insurance company.
Any unexpected situations occurred during the journey and which are beyond our control, including changes in scheduling trains or flights, delays, strikes, cancellations, missed connections, etc.. shall be covered by the passenger as a whole. Also, if you for physical reasons of health cannot continue the trek or walk, and will need emergency evacuation then all charges incurred such as transportation, hotel, ambulance, doctors, medication, hospitalization, etc.. will be at passenger's expense
What you need to Take:
Original Passport (and some copies)
Travel insurance (and some copies)
Airline tickets (and some copies)
US$ cash and travellers cheques
Credit or debit card (see personal spending money)
Any entry visas or vaccination certificates required
Camera and films
Rechargeable batteries and adapters
Reading/writing material
Binoculars
Cover for backpacks
Pocketknife.
Fleece top
Windproof/waterproof jacket
Small towel and swim wear
shirts/t-shirts
Sun hat
2 pairs of shorts
2 pairs of long trousers *zipp off
1 pair hiking pants/track pants
Hiking boots/ sturdy walking shoes
Knee-length socks (to be used with rubber boots, if provided at the jungle lodge)
Sport hiking sandals
Sun block
Sunglasses
Toiletries (biodegradable)
Watch or alarm clock
Water bottle
Purifying tablets or filter (Micropur recommeded)
Flashlight (head light recommended)
Money belt
Sleeping silk liner (for sleeping bags)
Wool hat, mitts or gloves (preferably waterproof)
Rain poncho, plastic bags for your personal stuff to keep dry
Sleeping bag (it can be hired form us )
Anti-inflammatory tablets (e.g. Ibuprofen)
Thermal underwear
Personal first-aid kit (should contain lip salve, Aspirin, Band Aids, anti-histamine, Imodium or similar tablets for mild cases of diarrhoea, re-hydration powder, extra prescription drugs you may be taking)
Money Exchange: Credit cards and debit cards are very useful for cash advances. Visa cards are the most widely accepted cards. While ATMs are widely available, there are no guarantees that your credit cards or debit cards will actually work in Peru. Check with your bank. You should be aware that to purchase products or services on a credit card a fee of 5%-10% usually applies. Do not rely on credit or debit cards as your only source of money. A combination of US$ dollar cash, travellers cheques and cards is best, although you will usually be charged a commission or given a less-favourable exchange rate for travellers cheques. Always take more rather than less.
COUNTRY DESCRIPTION :
Peru is a developing country with growing tourism sector . A wide variety of tourism facilities and services available , with different quality depending on price and location . Read the Department of State Background Notes on Peru for more information .
Location : Western South America , bordering the South Pacific Ocean, between Chile and Ecuador Geographic coordinates 10 00 S , 76 00 W Map references : South A South American area : total: 1,285,220 sq km land : 1,280 . 000 sq km water : 5,220 sq km Area – comparative : slightly smaller than Alaska land boundaries : Total:
5536 km border countries: Bolivia , Brazil 900 km 1560 km 160 km , Chile , Colombia 1496 km (est. ) , Ecuador …
Cusco Peru
Cusco is one of the greatest treasures of Peru . Headquarters of the former Inca Empire , Cusco is home to many of the most splendid examples of pre-Columbian art and archichecture the country. And many of their buidings rest on Inca foundations . Cusco setting is breathtakingly beautiful : the dramatic snow-capped Andes peaks rise above the warm colors of the Urubamba River valley . The area is also rich in vibrang living heritage of Peru : Quechua Indians , many of which remain essentially the same lifestyle they have known for thousands of years. Quechua ( Runa Simi ) is a Native American language of South America. We have already spoken in the Central Andes long before the time of the Incas , who established it as the official …
Machu Picchu Peru :
Machu Picchu ( Quechua : Machu Pikchu , " Old Peak " , pronounced [ ? M your pikt u? ] ) Is a pre-Columbian Inca site located 2,430 meters ( 8,000 feet) above sea level.It is situated on a mountain ridge above the Urubamba Valley in Peru , which is 80 kilometers ( 50 miles ) northwest of Cusco and through which the Urubamba River flows . Often referred to as " The Lost City of the Incas" , Machu Picchu is one of the best known symbols of the Inca Empire .
The Incas started building it around AD 1430 but was abandoned as an official …
Lima Peru :
Lima is the capital and largest city of Peru . It is located in the valleys of the Chillón , Rímac and Lurín rivers , on a desert coast overlooking the Pacific Ocean. Together with the seaport of Callao , it forms a contiguous urban area known as the Lima Metropolitan Area . Lima is the fourth largest city in Latin America, behind São Paulo , Mexico City and Rio de Janeiro. Lima has the third highest rate of human development in South America, after Brazil , Argentina and Chile. Today, is a major world city beta .
Lima was founded by Spanish conquistador Francisco Pizarro on January 18, 1535 , as La Ciudad de los Reyes, or " The City of Kings " . It became the capital and most important city in the Spanish …
Ica Peru :
The city of Ica is the capital of the Ica Region in southern Peru . It was founded in 1563 by the Spanish conquistador Jerónimo Luis de Cabrera. Starting in 2005 , had an estimated population of over 219 856 , however , the city suffered extensive damage and loss of life during the 2007 Peru earthquake .
location
The city is situated on the banks of Ica , about 300 kilometers south of Lima along the coastal desert of southern Peru . Further south along the Pan American Highway is the city of Nazca .
history
The city was founded in 1563 by Jerónimo Luis de Cabrera as Villa de Valverde. The August 15, 2007 , an earthquake of magnitude 8.0 occurred off the coast of Peru , severely affecting Ica .
In 2007, a prehistoric …
Paracas Peru :
The Paracas culture was important Andean society between approximately 600 BC and 175 BC , with extensive knowledge of irrigation and water management. It developed in the Paracas Peninsula , located in what today is the Paracas District of the Pisco Province in the Ica Region . Most of our information about the lives of the Paracas people comes from excavations in the great sea of ​​Paracas necropolis , first investigated by the Peruvian archaeologist Julio C. Tello in 1920. The necropolis of Wari Kayan consisted of many large underground burial chambers , with an average capacity of about forty mummies. It is suggested that each large chamber might have been owned by a particular family …
Nazca Peru :
Nazca Lines
Coordinates: 14 ° 43'00 " S 75 ° 08'00 " W / 14.7166667 75.1333333 ° S ° W
The Nazca Lines are a series of ancient geoglyphs located in the Nazca Desert of Peru . They have been designated a World Heritage Site by UNESCO. The high , arid plateau stretches more than 80 kilometers (50 miles) between the towns of Nazca and Palpa on the Pampas de Jumana . Although some local geoglyphs seem Paracas motifs , scholars believe the Nazca Lines were created by the Nazca culture between 200 BCE and 700 CE . The hundreds of individual figures range in complexity from simple lines to stylized hummingbirds, spiders, monkeys, fish , sharks or orcas , llamas , and lizards .
Arequipa Peru :
Coordinates: 16 ° 23'55 .76 " S 71 ° 32'12 .79″ W / 16.3988222 71.5368861 ° S ° W
Arequipa is the capital of the region of Arequipa in southern Peru . With a population of 904,931 , is the second most populous country. Arequipa lies in the Andes mountains , at an altitude of 2,380 meters ( 7,800 feet) above sea level, the snow-capped volcano El Misti overlooks the city .
The city has many colonial Spanish buildings built of ashlar, a volcanic stone white, which gives it the nickname La Ciudad Blanca ( " The White City " ) . [1 ] Reportedly , first acquired this nickname in the colonial era , because most of its inhabitants were Creole of the peninsula …
Colca Canyon Peru :
Coordinates: 15 ° 35'50 " S 71 ° 52'45 " W / 15.59722 ° S 71.87917 ° W Colca Canyon is a canyon of the Colca River in southern Peru . It lies about 100 miles ( 160 kilometers ) northwest of Arequipa . It is twice as deep as the Grand Canyon in the United States in 4160 m . However, the canyon's walls are not as vertical as those of the Grand Canyon. The Colca Valley is a colorful Andean valley with towns founded in Spanish Colonial times and formerly inhabited by the Collaguas and Cabanas . The local people still maintain ancestral traditions and continue to cultivate the pre – Inca terraces .
geography The Colca River starts in the Andes in …
Lake Titicaca Peru:
View Bolivian lake shore .
Coordinates 15 ° 50'11 " S 69 ° 20'19 " W / 15.836389 ° S 69.33861 ° WCoordinates : 15 ° 50'11 " S 69 ° 20'19 " W / 15.836389 ° S 69.33861 ° W
Lake Titicaca is a lake located on the border of Peru and Bolivia . Is 3,812 m (12,500 feet) above sea level, making it one of the most commercially navigable lakes in the world . By volume of water , it is also the largest lake in South America. [3 ] [4] description
The lake is located at the northern end of the endorheic Altiplano in the Andes on the border of Peru and Bolivia . The western part of the lake lies in Puno