Salkantay Trek with LLaqtapata 5 Days Tour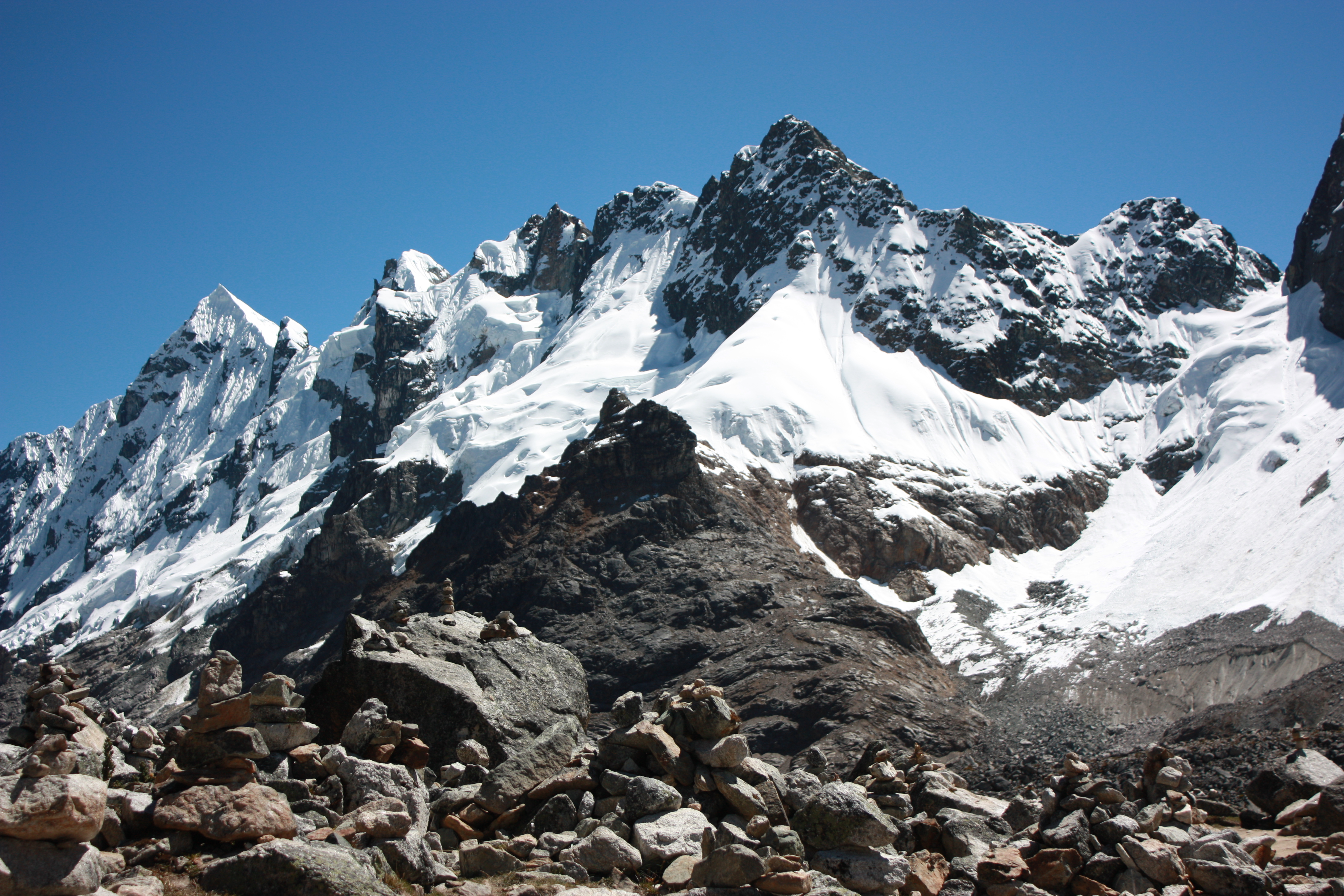 From: 360.00 USD$
Locations Visited

:

Salkantay Trek & Machu picchu citadel

Trip Style

:

Trekking Tours

Length

:

5 Days 4Nights

Frequency

:

Every day

Group

:

Min 8, Max 16

Physical Grading

:

1,2,3,

4

,5
DAY 01 :CUSCO – MOLLEPATA – SORAYPAMPA:
We start to pick you up from 04:30  am at your hotel  then we will drive from Cusco to Mollepata , where we stop for breakfast ( not included) then We will take a bus from Mollepata to Marqoq'asa, which will take about 45 minutes. From here we will walk for two hours to the mirador of Horada Pata where the valley divides into two (Valley of Mollepata and Marqoq'asa). We will follow the trail for three and a half hours to our lunch point and camping ground of Soraypampa. Marqoq'asa y Soraypampa  (14 KM.  5 hours)
OPTION: Hike up to visit Humantay lagoon located at 4220 m.a.s.l., which will take 1 hour and 20 minutes. The return descent will take about 40 minutes.
Tea will be served at 6.00 p.m. followed by dinner at 7.30 p.m. and finally head to our tents for a good night sleep
Meals: Lunch, Dinner.

Accommodation:Camping (double occupancy tents )

Maximum Altitude:3,800m/12,426 ft

Minimum Altitude:3,350 m/10,954 ft

Distance Travelled:19 km approx

Approximate Walking Time:6-7 hours / Ascent up: 450 m
DAY 02 :SORAYPAMPA – SALKANTAY PASS – CHAULLAY .
On this day! Guide will wake you up with a coca tea served at the door of your tent  " room service" to start this long day of trekking, after breakfast with the help of the sun god we will see the impressive snow mountain of Salcantay smiling down at you (or laughing depending how you feel at it ) little by little we will climb higher until arriving soyrococha where we take a short rest and try to catch our breath. then we keep walking up until reaching to the highest point of Salcantay mountain at an altitude (4600 masl ) here , the guide explain a little bit about the history of Salcantay mountain  and the history of the Incas civilization , good excuse to break and to eat some snacks . after taking a break at highest point of the trek it is time to leave the altitude and we will begin walking down for about 2:00 hours until we see the kitchen tent in order to enjoy our delicious lunch and some tea or coffee the day is not over yet and we will continue hiking down to lower land and altitudes until we reach the second camp site, chaullay, this campsite is very lovely because the beer tastes even better !!
Meals: Breakfast,  Lunch, Dinner.

Accommodation:Camping (double occupancy tents )

Maximum Altitude:4,600m/15,042 ft

Minimum Altitude:3,800m/12,426 ft

Distance Travelled:21  km approx

Approximate Walking Time:9 -10hours / Ascent up: 800 m
DAY 03 : CHAULLAY – LA PLAYA SAYHUYACO – SANTA TERESA
this day  is  much easier day, walking  mostly  downhill for about 4 hours until reaching  to Lluscamayo where we will stop for having  lunch also we will notice the climate is becoming much warmer because we are in the high jungle known as (ceja de selva) in this part, there are many small plantations such as coffee beans, coca, bananas if we are lucky we can see " gallito de las rocas " ( cock of the rocks) which is Peru's national bird if  If we have time we will also be able to take a refreshing shower under a waterfall. In the afternoon we will walk for about 3 hours to our final campsite just outside the small village of La Playa (the Beach) at the much lower altitude of 1800m. There are local restaurants, shops here that sell soft drinks, snacks and even a beer!
Meals: Breakfast,  Lunch, Dinner.

Accommodation:Camping (double occupancy tents )

Maximum Altitude:3,300m/10,791 ft

Minimum Altitude:2,100m/6,867 ft

Distance Travelled: 11  km approx

Approximate Walking Time:9 -10hours / descent down : 1200 m
DAY 04 : SANTA TERESA – HIDROLECTRIC – AGUAS CALIENTES  PUEBLO .
this day you have two option; you can either walk from santa teresa to aguas calientes (11 kilometres total ) or do a zip line tour in the morning (with transport to the hidrolectrica  station ) and walk  the final  7 kilometres .
what ever option you choose ? .the gruop will meet again in the hidrolectrica station .for having lunch and after we will walk 3 hours  along the train track to aguas calientes town . where we are going to sleep at hostel and have dinner then get briefing about the guided tour in machupicchu for the following day and you have option to visit the aguas calientes hot springs (10 soles entry )
* optional zip line in santa teresa  US$  35.00
Meals: Breakfast,  Lunch, Dinner.

Accommodation:Hostel

Maximum Altitude:2,200m/7,194 ft

Minimum Altitude:1,850m/6,049 ft

Distance Travelled: 11  km approx

Approximate Walking Time:9 -10hours / ascent up : 1200 m
DAY 05 : AGUAS  CALIENTES PUEBLO – MACHU PICCHU – CUSCO
Early after a good breakfast re-live the history and the mysterious world of the Incas, we take the first bus up at approx 05.30am and arrive at the ruins at 06.15am. This time is still not so crowded so we take advantage of the tranquility of this sacred site ; Guided Tour of Machupicchu. This enigmatic city is explored for Approx 2 hrs and their mysteries and archaeological information will be explained by your expert guide, ( you generally have approx 6 hrs extra free time but depends on train timetables in high season.) Option to climb to the Huayna Picchu mountain ( Please check previously with your guide. Sometimes guided tour is after Huaynapicchu.)
Machu Picchu is a magical, mysterious place that for nearly a century has intrigued archaeologists and visitors alike. Perched atop a steep, emerald green peak 8,000 feet high in the Andes in southern Peru, it is reachable only by a long road that zigzags up the slope from the roaring Urubamba river, or by hiking four days along the challenging Inca Trail. One can imagine the excitement when intrepid Yale professor-explorer Hiram Bingham, led there by local peasants in 1911, first glimpsed the jungle-invaded citadel abandoned by the Incas four centuries earlier.Bingham eagerly surveyed the site over the next five years, clearing away brush and identifying palaces, temples, and a celestial observatory from what is believed to have been a summer palace or ceremonial center for the first Incan emperor, Pachakuteq. Most of its gold and other treasures had been looted around the time of the Spanish conquest, but he unearthed thousands of artifacts and carted them off to New Haven to study. The Incas built their mysterious city here to be closer to the gods. It was placed so high in the clouds, that the conquering Spaniards never found or destroyed it. Visitors to Machu Picchu see well-preserved ruins hidden among the majestic Andes: palaces, baths, temples, tombs, sundials and farming terraces, along with llamas that roam among hundreds of gray granite houses.
Meals: Breakfast

Accommodation:Not Included,

Maximum Altitude:2,700 m / 8,856 ft

Minimum Altitude:2,400 m / 7,872 ft ( Machupicchu )

Distance Travelled:8 Km approx plus exploration of Machu Picchu

Approximate Walking Time:6-7 hours / Descent : 300 m
What is Included:
Salkantay Trek Briefing at Hotel or Office * Let us know where are you going to stay in cusco.

Professional Bilingual guides.

Collection from hotel ( we will come to pick you up between 4:00 am to 5:00am )

Bus from Cusco to Mollepata.

4 breakfast, 4 Lunches, 4 Dinners

3 nights Camping and 1  Hostel Accommodation.

foam sleeping mattresses note (if you want hire a comfortable air mattresses it also can be hired from us)

cook horseman mules (carry up to 5 kg per person  mules or porters (they just carry cooking stuff and camping equipment )

doble occupancy tents

Entrance fee to Machu Picchu

passport and 

 Student Identity card with exparation date on it , if is aplicable

First Aid kit

Vegetarian Option or  special diet-Free available.
What is  not Included :
First Breakfast , last lunch and dinner .

Entry to hot springs in Santa Teresa / Colcalmayo (10 soles) and In Aguas Calientes (20 soles)

Mineral water (boiled water provided with food but you can buy it along the way )

Bus tickes Aguas Calientes – Machupicchu US$ 12 each way .

Huayna picchu mountain US$ 18 AND Machu picchu mountain US$ 18

sleeping  bag ( you can hire from us US$15)

Walking poles (you can hire from us US$10)

Travel and health insurance.( bring copies with you please) :PERU TRAVEL COMPANY  highly recommend to get an insurance of trip cancellation / interruption insurance to protect your travel investment. Included with your pre-departure package, bring your travel insurance to cover trip cancellation, interruption, baggage loss and delay, emergency medical evacuation insurance and emergency medical expense insurance.
What you need to Take:
Original passport and copies (and Student card (ISIC) student card if applicable) green card if you are student )

Note ( you have to bring your student card to machu picchu because you are going to be required to show at the Machupicchu control point

Travel Insurance card is essential

Hiking water proof boots ( with ankle protectors )

Trekking poles metal tips are not allowed on the trail

Waterproof jacket or rain poncho

Warm jacket

Sun hat and gloves

T-shirts / shirts

Comfortable hiking zip off trousers

Rain pants

Bathing suit (for hot springs in Aguas Calientes)

Sun protection cream ( factor 35 recommended ) sun is strong

Insect Repellent ( for mosquitos )15 % of deet at least

Water bottle

Toilet paper and wet wipes

Personal medication

Camera and films

Torch with spare batteries (flashlight) we recommend headlights

Emergency money at least 200- 300 ) extra soles.(USD$ 120)

Short pants , Plaster and bandages

Walking poles (with rubber tips) they can also be hired from us (they can be used on the Inca Trail if they have rubber tips)

NOTE:  walking poles are not allowed into machu picchu cittadel .
SALKANTAY  TREK  WEATHER
Dry season (April – November)
Day temperature 20ºC/35ºC
Night temperature 5 ºC/10ºC
Wet season (December – March)
Day temperature 17ºC/22ºC
Night temperature 0 ºC/7ºC
ADVICE FOR HIKERS
Is recommendable have yellow fiber vaccination (malaria) because you will be 3 days in the high jungle. We never hear news about problems with malaria in this zone but are better to be prepared.
It is also important to be well acclimatized to the altitude for that try to spend 2 nights in Cusco (3400m) prior to do the trek.
LOCAL KIDS AND ADULTS
Along the way you will met many people, specially kids walking long distance to arrive at school and study 5 hours and they back home after maybe 30 minutes or 2 – 4 hours depending how far they live from the school. Normally they are son or daughter of poor farmers living on the mountains. We strongly recommend help us to give some present to them like pencils, notebook, dictionaries, toys, clothes (socks, gloves, hat, t-shirt, etc) and something to eat. We don't recommend giving them things like candies, chew gun, soda, camping knife or money. If you really like to make picture of them, especially of adults we strongly advise you to ask first. If you don't speak any word of Spanish language (español) coordinate with your guide to see if is possible to have picture of them. Local people don't permit take picture of them, because they believe you taking their spirit on your camera.
HIRE HORSE AND HORSEMAN
Horses can carry up to 120 Kg = $140 USD for the full duration of the tour ( $35 USD per day). Each horse comes equipped with saddle and assistant who will provide food and care the horse every day.
Riding a horse you will need to carry a daypack with your Camera, bottle of water, snacks, a fleece or something warm and a poncho in case of rain (unlikely in Dry season but as a precaution). Your bag will be waiting for you in your tent at campsites.
IMPORTANT !!!!!!
What Is The Difference Between Huayna Picchu/Machu Picchu Mountain?
Huayna Picchu is the mountain located at the northwest end of the ruins and Machu Picchu mountain is located at the southwest end. Huayna Picchu is steeper, but more popular and has some interesting archeological ruins at the top. Machu Picchu mountain is a longer trek, less steep and less crowded and offers great views over Machu Picchu. Check this amazing link out for views from the Huayna Picchu mountain and Machu Picchu mountain (it will open with the Huayna Picchu mountain, click on the right side of the picture and the other views will open).
see virtual video ( click here  )
How Long Is The Walk From Aguas Calientes To Machu Picchu?
The hike up to Machu Picchu takes around an hour up and 45 minutes to go down.
How Hard Is The Hike From Aguas Calientes To Machu Picchu?
The trail is comprised of stairs and is fairly steep, but taken slowly should not be a problem for most people.
How Long Is The Hike From Machu Picchu Up To Huayna Picchu?
The trail takes about 45 minutes to 1 hour to climb up and about 30 minutes to get down.
How Hard Is The Hike To Huayna Picchu?
The trail is very steep and can be crowded. People who have trouble with vertigo may not enjoy this trek.
What Is The Best Time To Hike Huayna Picchu?
We recommend the 10:00 – 11:00am entry time as it is more flexible with tours and allows travelers a more relaxed experience at the ruins.
When Does Machu Picchu Open/Close?
The ruins open at 6:00am and closes at 5:00pm.
How Long Do Most People Spend On machu picchu?
The majority of people will spend about 6 to 7 hrs in Machu Picchu.
Why booking with peru travel company ?
we are direct operators that means we do not pass onto another tour company , we own our own transports, bikes and equipment meaning the tour is well organized and the service is better.