Sacred Valley Tour of the Incas has five places to visit. Chinchero, Moray, Salt Mines, Ollantaytambo, Pisac. If you like you can visit the five sites in one full day.  This itinerary gives you the opportunity to visit all the most significant places of the Sacred Valley of the Incas, where you can appreciate the magnificent work that the Incas made in stone. You will also have the opportunity to interact with the local people and enjoy the landscapes mountainous areas that surround the sacred valley, with its glaciers, rivers and the friendly people that live in the ancestral valley. For example you will make a stop at the Chinchero to visit the Inca ruins, a colonial temple, and a local family to learn about Andean textiles, then you will go to Moray to visit the circular terraces, then visit the largest archaeological center of the sacred valley which is Ollantaytambo then we go to Pisac and then return to Cusco.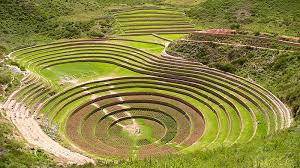 Locations Visited

:

Sacred Valley of the Incas

Trip Style

:

Cultural

Length

:

One Day Tour

Frequency

:

Every Day

Group

:

Min 8, Max 19

Physical Grading

:

1

,2,3,4,5
Overview 
Este tour es lo primero que usted debe  visitar una vez que llegue a la increible ciudad de cusco "ombligo del Mundo" el recorrido es de medio dia, donde se puede visitar los complejos arequeologicos mas importantes de la ciudad como son la cathedral, templo del sol Koricancha, y complejos arequeologicos como Saqsay Huaman, Qenqo, Tambomachay y Puca pucara. !no debes perderte este tour de bienbenida a la ciudad de cusco ! para realizarlo tienes que arrivar antes de las 11 am . Nuestra empresa lo realiza todos los dias.
Excursion Sacred Valley of Cusco 
Departure time 08:00 am
Ends time 19:00 pm
THE  PISAC  MARKET
Is a must-see for those visiting the Cuzco region. Every day, the streets fill to overflowing with artisans selling their goods and tourists from all over the world buying them. Sunday is the best and busiest day to visit by far. Villagers from miles around pack up their llamas and donkeys in the early hours of the morning in order to arrive and set up stalls where they sell vegetables and other produce. Even if you're not a shopper, the market is worth a visit. It's a great place to take photos and people-watch. Many of the cafés around the market have second-story balconies providing good views of the commotion below. The quality of the goods can be a little sketchy, and, if you're looking to spend a lot of money on any one item, you're better off in a fine gallery or store in Cuzco or Lima. But prices are low (though higher than in the Cusco markets) and it is a great place to buy memorable souvenirs for friends back home.
P'ISAQ ARCHAEOLOGICAL SITE
is one of the most important archaeological region. Possibly its name comes from a very common type of Bird in this area known as "p'isaqa." Some scholars suggest that the pre-Columbian city was in the form of a "p'isaqa" representing the local faun. Today there are a colonial Town named P'isaq.
in the Inca City there is a famous Local Market ,full of crafts and local products.
OLLANTAYTAMBO
The archaeological complex of Ollantaytambo was a strategic military, religious and agricultural center. The architectural scene is exceptional in its the size, style and originality of its buildings. For the Quechua language, the name comes from the word
Ollanta (which is the name of an Inca captain, whose story was saved as an oral tradition, and written as a drama of Antonio Valdez Urubamba priest in mid-eighteenth century) Also a Spanish derivation of the word tampu (Tambo)Quechua, which means
"City that offers accommodation, food and comfort to passengers."
Agricultural activity in this area benefited from the presence of the Patacancha creek, where there are large terraces that currently are damaged and abandoned.
CHINCHERO
The typical Chinchero is a Inca city, the conquerors wanted to "civilize" and establish their culture, but never succeeded, because they fully resisted. Today you can see this resistance in its inhabitants, as they inhabit the Inca constructions almost intact, in the same place where their ancestors lived and formed the largest and most prosperous civilization in America.
the Rainbow City is located 28 km. northwest of the Cusco city, over 3,762 meters, at an intermediate location between the highlands and warm valley, surrounded by snow-capped Salkantay, Veronica and Soray. The view from here is awesome. Chinchero was chosen by the Inca Tupac Yupanqui to establish his residence
At 19:00pm aprox, We'll arrive in Cusco, transfer close to the Cusco Main Square. 
lnclusions :
Guía en español y ingles

Servicio de transporte
Exclusions :
Alimentación almuerzos y cenas.

Llevar pasaporte original

Usar zapatillas o zapatos ligeros o tenis.

Tomar mucho líquido en sus excursiones.

Llevar impermeable (poncho largo) en epoca de lluvia

Camisas de manga larga.

Pantalones largos.

Repelente de insectos.

Protector solar, sombrero de ala ancha para los días de sol.

Lentes para sol, bolsas de plástico.

Medicina y/o artículos de uso personal (líquido para lentes de contacto).

Una mochila o maletín liviano.

Cámara fotográfica o filmadora y películas.

Tener a la mano cheques y monedas en pequeñas denominaciones soles o dólares.

Ropa de baño para los baños termales (opcional).