White Water River Rafting in Cusco Urubamba 2 Days Tour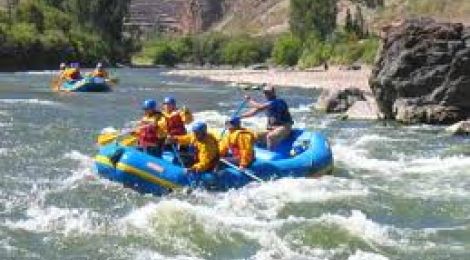 From: 145.00 USD$
| | | |
| --- | --- | --- |
| Locations Visited | : | Sacred Valley |
| Trip Style | : | cusco adventure activities |
| Length | : | 2 Days and 1 Night |
| Frequency | : | Every Day |
| Group | : | Min 6, Max 12 |
| Physical Grading | : | |
The Urubamba River, is a river in Peru. A partially navigable headwater of the Amazon River, it rises in the Andes to the south-east of Cuzco near the Puno Region border, where it is called the Vilcanota River. In the Sacred Valley, between Písac and Ollantaytambo, it is also called the Wilcamayu (sacred river). It flows north-north-west for 724 kilometers before coalescing with the lower Apurímac River to form the Ucayali River.
It has some exciting white water depending on the section of the river being done and the time of the year. One of our most popular rafting sections during the season is the "Chuquicahuana" (CHUQUI) ,section of the river on the Upper Urubamba. There are good class IIl rapids and the water is not contaminated, as unfortunately the Sacred Valley of the Incas sections of the river are.
This section is perfect for one day tours, with nice class II, III and III+ rapids. Excellent scenic riverside big eucalyptus trees, beautiful flowers, profusion of cactus and Inca ruins adorn this whitewater trip.
This white water rafting season is all year long and from early December to late March the river is Class IV. The rest of the year are rapids Class IIi, on Cusipata (CUSI) section of the river , it has Class II rapids.
Day 01:
We pick you up at your hotel , after one and a half hours drive we arrive to the put -in at the shores of the Urubamba River, at "CUSIPATA RIVER CAMP", our private campground. Our professional Rafting Guides will give you a safety talk and provide you with all the proper equipment for Rafting. We would be floating for approximately two and a half hours, running class II and III.
Afterwards , we arrive to the take-out where our private bus will be waiting for us to take us back to" CUSIPATA RIVER CAMP", where a hot Sauna will be waiting and a full course lunch will be provided. If you are staying for a second day we will spend the night at the camp, where we have a thatched roof camping area with double occupancy tents, a comfortable dining place, a sauna and hot tub , hammocks and excellent food. You will fall asleep under the whisper of the river.
Day 02 :
After a relaxing Sauna and a good night sleep , we get up for a healthy breakfast and drive up river to the CHUQUICAHUANA (CHUQUI) section of the river, where we will be running class III plus & IV rapids . We will include some extra safety such as a Kayaker or a Cataraft. After about 2 and a half hours , we arrive back to "CUSIPATA RIVER CAMP", where a good meal will be served. Afterwards we drive back to Cusco arriving in the late afternoon.
WHAT IS INCLUDED:
Transportation from Cusco to the put-in at the River
All the rafting equipment, such as Helmet , Life jacket, paddle, self bailing Raft
Spray Jacket, wet Suit , Safety kayaker.
Professional English speaking Rafting guide
Delicious lunch
Transportation back from the River
WHAT IS NOT INCLUDED :
Tents with Mattresses
Thatched roof for the tents
One breakfast . Two lunches, One Dinner
Sauna and Hot tub facilities
Hot showers, toilets ,fire place
We have a nice bar and socializing area