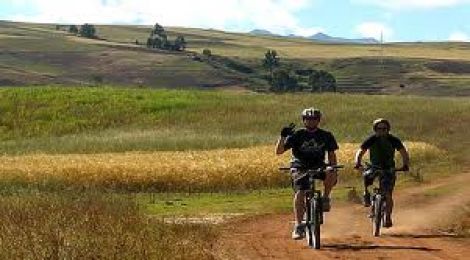 From: 85.00 USD$
Locations Visited

:

Maras , Moray , Salineras .

Trip Style

:

Adventure  activities

Length

:

One day

Frequency

:

Every day

Group

:

we need  2 people Minimun

Physical Grading

:

1,

2,3

,4,5,
The Sacred Valley of the Incas or Urubamba Valley is a valley in the Andes of Peru, close to the Inca capital of Cusco and below the ancient sacred city of Machu Picchu. The valley is generally understood to include everything between Písac and Ollantaytambo, parallel to the Urubamba River, or Vilcanota River or Wilcamayu, as this Sacred river is called when passing through the valley. It is fed by numerous rivers which descend through adjoining valleys and gorges, and contains numerous archaeological remains and villages. The valley was appreciated by the Incas due to its special geographical and climatic qualities. It was one of the empire's main points for the extraction of natural wealth, and the best place for maize production in Peru.
DAY 01  : we drive from cusco to chincheros where we get off and start biking for 2 hours to get Moray special incan site (agricultural terraces) after exploring we continue to the salt flats of maras and the we go toward the sacred valley of the incas to get urubamba to take the bus back to cusco.we will be back to cusco about 5:00 pm aprox.
IMPORTANT  Private Service Upon Request) US$ 70 each 04 people Minimum) Private Land Transportation H-1 Hyndai van of 09 passengers support vehicle is always on stand-by for tired legs. there will be a Van that will accompany all the time
WHAT IS INCLUDED :
Local Bus round trip cusco to Chincheros and Urubamba to cusco
Mountain bike (supension in front) Helmet, Gloves, Knee and Elbow Pads.( Get Safe Serious Fun)
Speaking English Guide
Snacks
WHAT YOU NEED TO TAKE :
Personal water bottle and snack
Camera +Film/Video camera (optional)
Boleto turistico tourist pass