This picturesque town, located 46 km from Cusco, contains beautifully preserved colonial architecture against a delightful backdrop of nature's colorful caprices.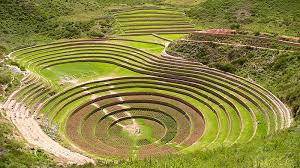 Locations Visited

:

sacred valley of the incas & cusco

Trip Style

:

Cultural

Length

:

Half day

Frequency

:

Every Day

Group

:

Min 8, Max 20

Physical Grading

:

1

,2,3,4,5
TOUR IN THE SACRED VALLEY OF THE INCAS
Tour Itinerary 
Day 1: Pick up at 08:30 from your Hotel or meeting point in our office.
Enjoy this fantastic half day tour to see Moray the Greenhouse farming laboratory, visit a traditional andean town of Maras with their ancient traditions of artisans and lovely people and finally see the natural Salt Mines. The Incas used these circular terraces located west of Cusco, like an agricultural "research station" By a freak of climate and terrain, the average temperature on the lower terraces is much cooler than on the higher ones, thus enabling researchers to test different crop strains for different climates. Storings and channelling water was another key to the Andeans success as farmers.
—
CHINCHERO: Located 28 kilometers from Cusco and surrounded by patchwork style fields of exquisite natural colours. Chincheros is a charming town, with colonial style constructions and was a major agricultural center during the Tawantinsuyo. One can appreciate the stone walls with trapezoidal niches that provide the setting for the traditional market, where they still practice bartering. The Chincheros women can always be recognized for their very distinguishing clothing and braided hair. The famous church and archaelogical site here requires the tourist ticket. (we do not visit Chinchero because most of people have visited touring the Sacred Valley tour).
—
MORAY a further breathtaking 20 kms drive with the beautiful snowcapped Chicon and Veronica mountains in the Cordillera Vilcanota as a backdrop we continue through to Moray. In Moray we visit " the Inca agricultural greenhouse or laboratory", consisting of four platforms amphitheater style or. Has a depth of 150 meters, the overlapping concentric circular stone rings widen as they rise. It was an experimental place to study the adaptation of plants to new ecosystems. 
—
MARAS/ SALINERAS ( Salt mines ) located 7 miles from Moray at altitude of 3, 380 m is a small village, as a model of a miniature city. Famous for its salt mines, made up of about 3000 small wells with an area average size of about 5 ms ². These were already exploited since Inca times as a means of economic exchange and securities. Very interesting to see how the salt is recovered from these mines and the lives of those who work here.
Inclusions : 
 Guide

 Tourist bus to and from
Exclusions :
 Entrance fees to all touristic attractions

 Food
Recomendations :
Original Student card

You only need to carry a small day pack

 Water to drink ,Camera, Waterproof jacket or rain poncho, Warm jacket

Sun hat , Comfortable hiking zip off trouser

Basic toiletries, Hat or cap for the sun, essential

Sunscream with sun protection

 Sun protection cream ( factor 35 recommended ) sun is strong.